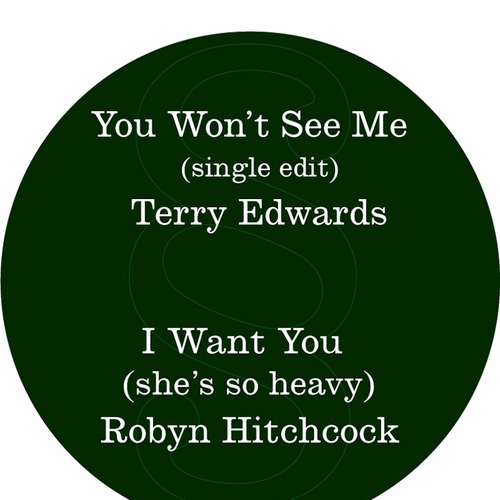 You Won't See Me / I Want You (she's so heavy)
Available Formats
Tracks
Price
Buy
10" Vinyl Single
2 tracks

£

7.50

Download Single (

MP3

)
2 tracks

£

1.58

Download Single (

FLAC

)
2 tracks

£

1.58

Download individual tracks
From £0.79
Description
Terry Edwards / Robyn Hitchcock - You Won't See Me / I Want You (she's so heavy)
Free download of this release with every order, simply add both to your basket, and we'll take care of the rest

It has long been Sartorial's ambition to pair Robyn Hitchcock with Terry Edwards in the label's series of coloured vinyl singles and the ideal opportunity has arisen - each artist has a Beatles cover in the can, perfect for a release on Apple Green shellac.

Terry's latest album, Clichés (12 tracks recorded in homage to Alex Chilton) includes the plaintive You Won't See Me, which is from the Fab Four's Rubber Soul. Unrequited love in a nutshell, this charming tune has been covered in the past by Bryan Ferry who realised it with harpsichords in a lush arrangement befitting his style. Edwards breaks it down to acoustic guitar and solo voice (no Beatles harmonies here), personalising the heartache. "A deftly finger-picked version" - Time Out ***

I Want You (she's so heavy) has Robyn in his element. A seemingly effortless version of the Abbey Road epic, Hitchcock is joined by Rob Ellis (ex-PJ Harvey) on drums plus regular contributors Paul Noble, Jenny Adejayan and Ruby Wright along with Harvey Danger vocalist Sean Nelson. Edwards joins the party including a rare contribution as lead guitarist!

Mojo Magazine celebrated the 40th anniversary of the release of Abbey Road in 2009 by issuing a cover-mount of the album reworked by a star-studded array of artistes. This version of I Want You was commissioned for that compilation, but has never been commercially available until now.
Reviews
Clichés | Terry Edwards | FIT050CD
"Wonderfully twangsome" - Q The Music *****
"A personal, unpredictable meshing of deep-brain resonance" - Mojo ***
"Edwards really hits the bulls-eye" - Uncut ***
Propellor Time | Robyn Hitchcock & the Venus 3 | FIT047CD/LP/Cassette
"A delightfully accessible outing by this perennial cult favourite" - Times Online ****
"A clutch of affable songs, notably the chirpy Luckiness & the languid title track" - Mojo ***
"An acquired taste among punters, he's held in such high esteem by his peers" - Classic Rock 7/10