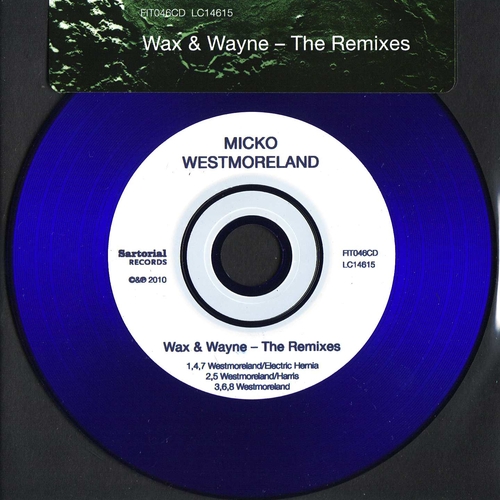 Wax & Wayne - The Remixes
Available Formats
Tracks
Price
Buy
CD Album
8 tracks

£

4.99

Download Album (

MP3

)
8 tracks

£

4.99

Download Album (

FLAC

)
8 tracks

£

5.99
Description
Micko Westmoreland - Wax & Wayne - The Remixes
Wax & Wayne - The Remixes showcases electro/dance reworkings of some stand-out tracks from Micko Westmoreland's 2008 album Wax & Wayne - which missed the short list for the Mercury Music Prize by a whisker. Dammit! The Remixes weave new versions of the material together then chills out with the album version of Brave.

The radio and dance-friendly GM Militia opens the album - hard beats, atmospheric percussion, soft flutes and colourful FM modulation, with bolt-on metallic synth lead & 80s style goth-noir vocals. Olga O's lilting Russian voice ignites the choruses.

Red Falcons Project is an outfit from Indiana featuring Warren Kroll (Dorosoto, Forrest) and Steve Lutes (Mall Security, Kontyx) whose love for Nintendo, electro, bad 80's movies and the early 90's electronic music scene gives way on their Royal Synth Mix of Green Militia to electro/idm and synth-pop flavours. This contrasts nicely with Militia In The Dub Cabin from Our Carbone. A master of cutting & pureeing audio, Riccardo Carbone is known for his work with Bishi, Arthur Brick, artist Peter Harris/Lee Perry and Appleseed.

The remixes of Darkness, the first single from Wax & Wayne are provided courtesy of Micko himself and Bocomoco aka Victor Bock, a Brazilian engineer/producer who first worked with Westmoreland on the score of the prize-winning film Echo Park LA. The version here is a radio edit expertly sliced by Funkhead known for his work with Noonday Underground and Sartorial labelmates Nitwood.
Reviews
"Edgy & cool"
"Can't stop listening to it, and when I do, it keeps playing in my head..."
www.amazon.com
Tracklisting
CD Album (FIT046CD)
Micko Westmoreland

- GM Militia (Micko Mix)

Micko Westmoreland

- Darkness (Micko) (Micko Mix)

Micko Westmoreland

- The Aviator's Dream (edit) (Micko edit)

Micko Westmoreland

- The Green Militia RFP (Royal Synth Mix)

Micko Westmoreland

- Darkness (Bocomoco) (Funkhead edit)

Micko Westmoreland

- The Aviator's Dream (Bocomoco mix) (Bocomoco Mix)

Micko Westmoreland

- Militia in the Dub Cabin (Our Carbone Mix)

Micko Westmoreland

- Brave (Original Cut)
Download Album (FIT046CD)