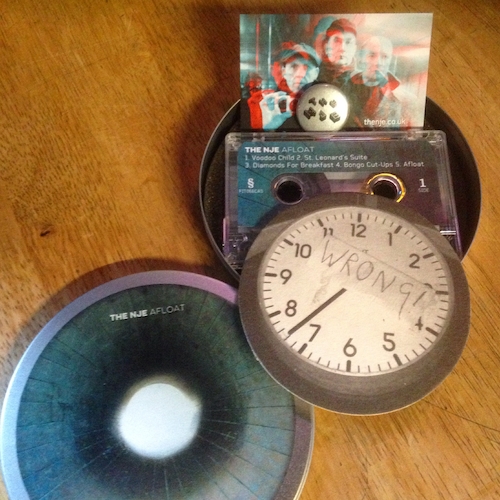 THE NJE - AFLOAT
| Format | Price | Buy |
| --- | --- | --- |
| Afloat - cassette | £10.00 | |
Description
The Near Jazz Experience - THE NJE - AFLOAT
Like most band names, it came about by accident – trying to explain the sound of three musicians playing horn-led instrumentals from the rock/pop side of the tracks, the closest description was a 'near-jazz experience'. Swiftly abbreviated to The NJE, this 'Near Jazz Experience' was formed by multi-instrumentalist Terry Edwards, bassist Mark Bedford and drummer Simon Charterton in the spring of 2010.

Look no further than the Hendrix cover, Voodoo Child for a way into their world. The familiar reinvented and taken to a parallel world. Born out of a love of improvised music which was accessible (funky beats and grooves) yet experimental enough to break the mould of middle-of-the-road jamming, the trio built up a following at a residency in the heart of London's East End, headlining the monthly Sartorial Records music nights.

Edwards & Charterton cut their musical teeth with Norwich punk-funk band The Higsons, after which Terry formed BUtterfield 8 with ex-Madness bassman Mark Bedford. The NJE draws the three together in an outfit reminiscent of The Bays in that they don't rehearse, but perform music intuitively, with an ear to accessible beats & tonality with Edwards' melodic flights of fancy dancing over the top.

Afloat came about after several recording sessions, both in concert and in the studio, and completed by the band using harsh editing techniques overseen by Hot Chip frontman Alexis Taylor at the mixdown stage. The album's seven tracks are complimented by the addition of four previously released download/vinyl tracks for your listening and dancing pleasure!

Mainstays of the NJE sound are Edwards' double-sax technique - playing alto & tenor simultaneously, Charterton's polyrhythmic funk patterns and Bedford's fluid but grounding basslines. The whole is a near-jazz experience - just what you'd expect from musicians who have worked with people as far-flung as PJ Harvey, Jerry Dammers, Tom Waits, Spiritualized, Robert Wyatt, Alex Harvey, Gallon Drunk, Big Star, St Vincent and Ian Dury. And that's just the tip of the iceberg...
Reviews
"The trio's version of Hendrix's Voodoo Child has to be heard to be believed" - Prog 08/17
"Approach with caution, an open mind and willingness to have your preconceptions shattered... and then some!" - Dancing To Architecture 09/17